LET US GET YOUR PROPERTY ON TRACK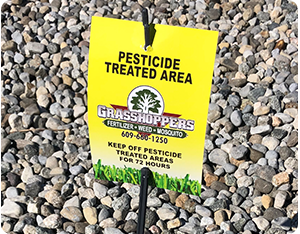 Do you want a flourishing property? Our Programs produce real results by giving your yard multiple applications of essential treatments. Stop the guesswork and let us take your property to the next level.
Grasshoppers Landscaping provides continuous services for all of our programs to make your lawn and landscape healthy and green and the envy of the whole neighborhood. Once signed up we will continue service year after year unless you tell us otherwise.
If you have any questions or concerns about your landscape, we're always just a phone call 609-660-1250 or email away.
Grasshoppers Landscaping did a wonderful job on my lawn. They were neat, efficient and did the job in a timely fashion. I will definitely use them again.
Lisa Gonzalez
Grasshoppers Landscaping is very reliable! I'm very pleased and grateful for providing all my Landscaping needs! Highly recommended!
Carmela Santoro
Great service, great finished work, and by far the best pricing of all the local landscapers! I'll definitely be using them for future projects as well a maintenance on my properties. They turned my rental "jungle" into the beautiful home it's meant to be.
Bran Fit